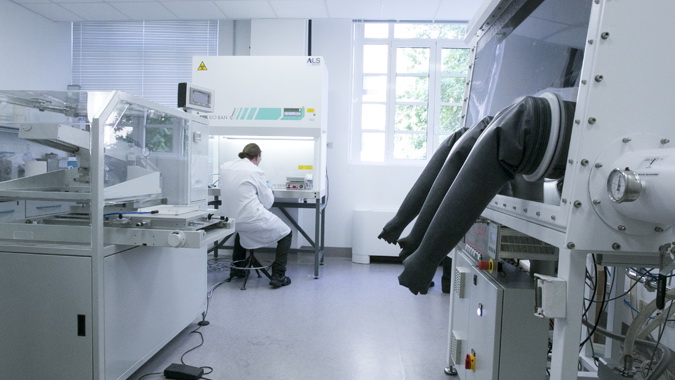 The MIB-SOLAR labs are located at the Department of Materials Science of the University of Milano-Bicocca.
The heart of the Center MIB-SOLAR is a brand new laboratory space located on the ground level of the Department of Materials Science (Buiding U5). The new labs provides state-of-the-art facilities for the fabrication and characterization of inorganic and organic photovoltaic cells and modules in approximately 1,000 square feet with a ISO7/ISO8 (class 10,000-100,000) cleanroom environment.
Main facilities include:
fully equipped laboratories for synthesis (including glove-box reactions, microwave, etc.) and characterization (including multinuclear NMR, absorption and emission spectroscopy, ATR-IR, TGA, DSC, GC-MS, etc.) of organic, inorganic, and polymeric materials;
fully equipped laboratories for electrochemical synthesis and investigation;
study of chemical, thermal, and photochemical short- and long-term stability;
fabrication of thin film CIGS and CZTS solar cells;*
fabrication of DSCs and organic/polymeric cells (glove-boxes, spin coater, screen printer);*
solar simulators for small cells (2x2") and modules (6×6″) and Keithley digital sourcemeters for current/voltage measurements;*
fully integrated system for EQE and IQE measurements;*
Scanning Electron Microscopy (SEM) Tescan VEGA TS5136XM equipped with EDX and EBIC; 77-300 K;
large variety of spectroscopic techniques for characterization of materials in solution, solid-state and in devices;
Hall Effect instrument for studying resistivity, carrier density and electrical mobility of thin films (0.6 T magnetic field, both positive and negative; measurements between 15 K and 350 K);
ovens and titanium hot plates for thermal treatment;*
Light Beam Induced Current (LBIC);
sputter, evaporator, film applicator, plasma and ozone cleaning;
Quasi Steady-State Photoconductance Decay (QSSPC) for lifetime testing;
ageing of solar cells under thermal stress and light soaking;*
gas-chromatograph and ion chromatograph for identification and quantification of solar fuels produced by water splitting, CO2 or nitrogen reduction;
Picosun R-200 Advanced reactor, for thin film deposition (< 10 nm) using Atomic Layer Deposition (ALD), allowing for thickness control at the sub-nanometer level (< 0.5 nm) and uniformity of the deposited layers even on complex 3D micro-structures. The reactor is equipped with a microwave plasma source (2.45 GHz frequency) powered by O2, N2 and Ar, enabling the development and use of both thermal and plasma deposition processes. It is possible to follow real time in-situ film growth thanks to the Film Sense FS-1 ellipsometer mounted on the chamber. The samples are loaded via a load-lock chamber, without interrupting the vacuum in the main chamber.
* partially funded through University of Milano-Bicocca grant 2010 (Grandi Attrezzature)